We are hooking into Monster Stripers!
There isn't a more enjoyable way to spend a few hours than deep sea fishing RI in the Block Island Sound. At Aces Wild Charters, we're ready to bring you on an angling experience to remember out of Point Judith, Rhode Island. Bring your family or buddies, and let's catch some fish!
This group of guys on a recent day of fishing hooked up on some MONSTER striped bass on their Rhode Island charter fishing trip aboard the Aces Wild!
Deep sea fishing Rhode Island this summer we are seeing some of the biggest Stripers ever, including 40-50+ inch striped bass! All kidding aside, there's nothing like deep sea fishing when you bring in a monster Striped Bass. Seeing the fish rip line off the reel of the light tackle while the tip is dipping down into the water is a thrill like nothing else! You are pretty much wiped out after reeling in several hundred feet of steel line with a monster striper on the end of the line.
This is Rhode Island Deep Sea fishing at it's best. I mean, this truly is some incredible sport fishing like we've not seen in quite sometime. Fishing charters off Block Island are generally going to be closer to the action because the Block Island sound is where the action is!
Whether you are on vacation with your loved ones or just an avid angler, we know that you'll have the time of your life on one of our Striper or flounder charters!
The Aces Wild charter boat is Operated by Earl Bell, and his first mate is Matt DeLuise. When it comes to Block Island deep sea fishing, these two absolutely know where the fish are and will bring you to the best fishing spots around. Our goal on the Aces Wild is to not only to make your trip the most memorable Rhode Island saltwater fishing ever, but to also show you a really great time!
So, grab your family or friends and join us off the Block Island sound for a Rhode Island fishing experience at its finest. Come on out for a full day, or half day of fishing for flounder, tautog, stripers, bluefish, black sea bass, etc.
And of course, offshore fishing is fun. Leveraging an Aces Wild Rhode Island Fishing charter will help you make the most of your day out on the water by bringing you to the best fishing locations, providing all the fishing tackle required, handling the bait and ensuring the correct tackle is on the line, landing the fish in the boat, and of course cleaning and bagging your fish! There's nothing like a private charter aboard the Aces Wild.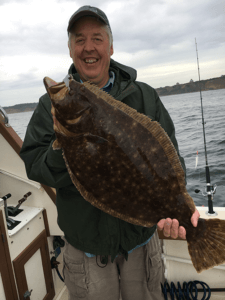 Here in Rhode Island we are lucky to have access to some of the best fishing in the Northeast. We also have a variety of fish in the area including bluefish, striped bass, fluke, tuna, tautog and more. The most sought after saltwater game fish in Rhode Island are Striped Bass and Bluefish. Of the two, Bluefish provide anglers with one heckuva fight! We generally catch these fish from May through September.
So make the best of it. Get out on a Block Island deep sea fishing charter aboard the Aces Wild. You will have the time of your life!
Related